1 Bedroom – 1.5 Bathroom
1,398 Square Feet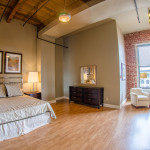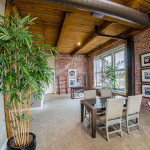 $239,000 Market Price
Unit Features:
o Top Floor Unit o Large Skylights o Large Windows o Heavy Timber Ceilings o Colorful Brick Walls o Amazing Views
Building Amenities:
o Gated Garage Parking Available o Fitness Center o Club Room o Roof Top Deck o Tax Abatement o Excellent Garment District Location!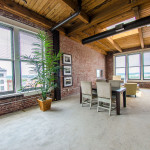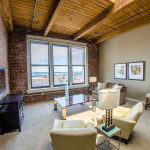 Soho Lofts is located in the heart of the Downtown Garment District on 8th Street. The rapid growth of this area in early part of the twentieth century established Kansas City as one of the nation's leaders in the wartime clothing industry. Four unique buildings form Soho Lofts and each one has a unique history.
Soho Lofts is now home to a variety of studio, one and two bedroom lofts. At Soho you will find elegant floor plans featuring heavy timber ceilings and stunning views, ranging in size from 500 to 1,400 square feet.
Soho Lofts amenity package includes a club room, a fitness facility and a roof top terrace. There's also an attached parking garage and a secured telephone entry system. This historic property is just a short walking distance of the River Market, many fine restaurants, the Phoenix Jazz Club and much more.
Enjoy living in the heart of the city at a reasonable cost at Soho Lofts.
*Tax abated until 2017