The New Yorker
1112 Baltimore, KCMO 64105
click for directions

The redevelopment of 1112 Baltimore located in Downtown Kansas City Missouri has commenced. This, uniquely lean, nine story building was original constructed in 1915 as the Hotel Bray and is listed on the National Register of Historic Places. Designed in the Jacobethan Architectural Style, the brick east façade is decorated with terra cotta window surrounds, string courses, crenellations and a double roof gable and is reminiscent of something you might see if you were strolling down a street in Derbyshire, England. In 1947 the building was extensively remodeled into a 100 room hotel and rebranded as the New Yorker Inn. This renovation included the addition of a restaurant and cocktail lounge known as the 'Esquire Room'.
Today within this distinctive structure eight floors will be modernized into 29 studio and one bedroom apartments with open layouts and contemporary finishes ranging in size from 385 to 745 square feet. Apartment features will include polished concrete floors, stone counter tops, modern kitchens, nest thermostats, and sleek bathrooms. The majority of these apartments will be rented for less than $1,000 per month providing one of the most affordable market rate apartment experiences in Downtown Kansas City.
Resident amenities will include a mid-century inspired lounge, fitness center, laundry center, and resident storage. A coffee bar and tap room will be located on the first floor. Garage parking is also available for rent in the adjacent garage.
The New Yorker will open Spring 2018.
Why The New Yorker?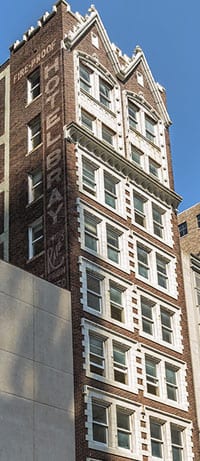 Modern Kitchens
Contemporary Bathrooms
Granite Kitchen Counter Tops
Original Concrete & Terrazzo Flooring
Stainless Steel Appliances
Resident Lounge
Coffee Bar & Tap Room
Fitness Center
Private Resident Storage
Nest Thermostats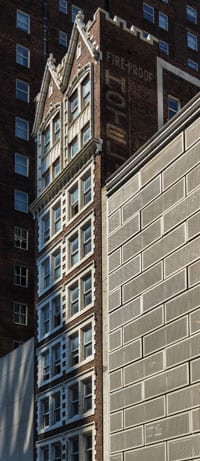 Gallery