Trolley Park Lofts
412 W. 8th Street, KCMO 64105
click for directions

Trolley Park was built in 1907 as a seven story factory warehouse utilized by Noyes-Norman Shoe Company. This historic property is located in Garment District Downtown. The rapid growth of this area in early part of the twentieth century established Kansas City as one of the nation's leaders in the clothing industry.
Today Trolley Park offers loft dwellers a charming 8th street address adjacent to Garment District Place, a beautiful downtown park. This loft property has a variety of elegant one and two bedroom floor plans for rent with heavy timber ceilings, colorful brick walls and stunning views. Loft interior features include stainless steel appliances, walk-in closets, plank flooring and Google Fiber.
Trolley Park Lofts is within short walking distance of the River Market, Power and Light District, Sprint Center, Kauffman Center for the Performing Arts, many fine restaurants, bars, theatres and much more. Amenities include a modern club room, two fitness centers, a sauna, and keyless entry system. Gated and covered parking are also available for rent.
Enjoy living in the heart of the Garment District at Trolley Park Lofts.
Why Trolley Park Lofts?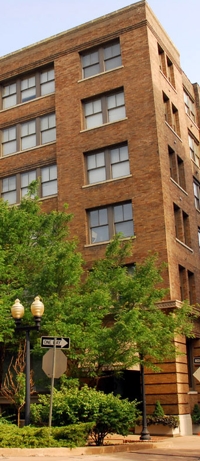 Health Club – Residents have access to a fitness facilities with a full range of cardio, strength training machines and a sauna.
Club Room – Residents can entertain family and friends in a contemporary clubroom.
Parking – Gated and covered parking available.
Interior Design – Stainless steel appliances, lofted wood beam ceilings, walk-in closets, exposed brick interiors and large windows with incredible views.
Security – Keyless entry systems offer convenience and security complemented by a courtesy patrol service that provides onsite security services.
Rent Café – All KCLoftCentral communities are connected via Rent Café. This online resident portal allows tenants to pay rent, view their tenant ledger, schedule maintenance requests and view community messages.