Campbell Lofts
1535 Walnut, KCMO 64108
click for directions

Additional For Sale Properties Available
At Campbell you will see the lights, feel the excitement, and live at the intersection of Kansas City's Power and Light District and the Crossroads Arts District.
This proximate residential development is located at 1535 Walnut. A Kansas City landmark, this building was designed and built during World War I by J.C. Sunderland, who also designed Kansas City's Masonic Temple.
These one and two bedroom loft condominiums feature soaring concrete ceilings, large windows, private balconies, panoramic views, and washer/dryer hookups.
Building features include a modern fitness studio with a full range of equipment, off-street parking available, Google Fiber, keyless entry, video security, courtesy patrol and on-site maintenance.
It would be difficult to pinpoint a more exciting location in the downtown area for those who want more than just the pulse of the city – Campbell is at the heartbeat of Kansas City's culture of the future.
Why Campbell Lofts?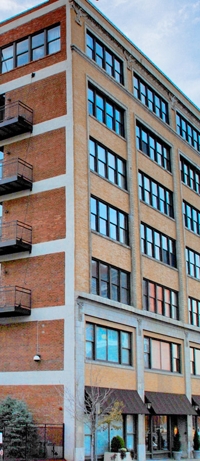 Health Club – Burn off steam in our fitness facility with a full range of cardio and strength training machines, free weights and HD TVs.
Parking – Off-street parking available for rent.
Storage– Locker storage subject to availability.
Interior Design – Large windows, unique concrete construction, washer/dryer hookups, and beautiful brick walls.
Security – Keyless entry system, digital telephone access for guest, video security and courtesy patrol service.
Building Features – – Private balconies, historic charm, Google Fiber and excellent location only one block from the Street Car.
Tax Abatement Ending in 2026!