SoHo Lofts
308 W. 8th Street, KCMO 64105
click for directions

Comprised of four architecturally unique and historic buildings on West 8th street, the Soho Lofts sit in the heart of the Garment District. These four buildings include the Phoenix Hotel, the Bond Shoe Company, the Armour-Volker building and the Lechtman Printing Company; all of which was built between the years of 1888 to 1915. The Soho Lofts include a variety of studio, one and two bedroom loft condominiums where you will find elegant floor plans featuring heavy timber ceilings, colorful brick walls and large windows to showcase stunning views. Amenities include a Club Room, fitness facility and a rooftop terrace. An attached parking garage is available for residents as well as secured entry and a coffee shop on the first floor!
The Garment District was integral to the historical development of Downtown Kansas City and the Soho Lofts stand in the middle of this action. The Phoenix Hotel, known for its sordid past as a bordello and bar on the corner of West 8th and Central, was built in 1888 then a decade later, the Bond Shoe Company building was constructed on the other end of the block at West 8th and May. Erected in 1902, the Armour-Volker building was home to clothing manufacturing companies like Talon Zippers and the Kansas City Boys Wear Company. Lastly, the Lechtman Printing Company building was built in 1915 , utilizing historical printing press methodology. Due to Kansas City's centrality, the Garment District flourished as dry goods, specifically textiles, could be shipped to the West and Southwest regions of the United States as rail corridors converged here; allowing Kansas City-made garments to dominate those markets. So much of the Garment District, particularly West 8th Street, was built up in the very early part of the twentieth century that it looks almost exactly as it did over one hundred years ago.
The Soho Lofts offers many surrounding amenities and attractions such as the River Market area just to the north for a few blocks. There, you will find fresh produce, vibrant shops featuring odds and ends and numerous restaurants of different cultural fares as just some of the ingredients in this vibrant district. Live jazz can be found at the Phoenix Jazz Club and the Majestic Steakhouse; both just steps away. Other bars and restaurants dot the Garment District throughout its quaint streets. Highway accessibility can be reached through the Broadway bridge and bus stops and streetcar stations can be found along Broadway Boulevard and Main Street, respectively.
Living at the Soho Lofts offers a unique, diverse residential experience of historic Kansas City at affordable prices that are hard to beat!
Why SoHo Lofts?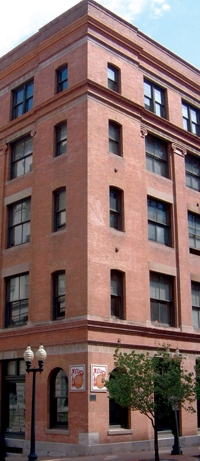 Health Club – Burn off steam in our large fitness facility with a full range of cardio and strength training machines, tanning room, yoga center and sauna.
Club Room – Watch the big game in our modern social lounge featuring a catering kitchen, pool table, and a large HD TV.
Roof Top Terrace – Relax while experiencing breathtaking city views from our roof top terrace.
Parking – Attached covered parking available for rent in the adjacent garage.
Interior Design – Heavy timber ceilings, unique floor plans, large windows with breathtaking views.
Security – Secured entry, attached parking and courtesy patrol service.
Google Fiber – Free basic internet service is available at this building with Google Fiber service.
Location – Live on 'Scamp's Alley' in the heart of Downtown's historic Garment District. 8th Street is locally renowned as "one of the most picturesque street's in Kansas City".