15Walnut
1522 Walnut, KCMO 64108
click for directions

15Walnut is an adaptive reuse of two neighboring historic buildings in the Crossroads Arts District of Downtown Kansas City Missouri. 1522 Walnut was designed by architect Victor DeFoe and constructed in 1922 for the Goldblatt Tool Company. Stone Doric pilasters visually separate the facade of this two story brick building into three perpendicular bays. The first floor entrances serving the residences and the retail space are adorned with multi-light wooden doors and compound Gothic-styled ogee arch surrounds. 1526 Walnut was designed by architect Nelle Peters and constructed in 1924 for the Townsend Printing Company. This two story stone tapestry commercial building is decorated by a rectangular band of brick laid in soldier course and stone accents at the corners of the parapet wall.
15Walnut was recently renovated by KCLoftCentral and is now home to a sleek selection of modern loft apartments. Interior architectural features include hardwood flooring, masonry accent walls, and timber ceilings. The building's natural traits are perfectly melded with stone counter tops, stainless steel appliances, modern lighting and spacious floorplans. These pet friendly loft apartments have large closets, full size washer and dryers and are equipped with Google Fiber. Rental pricing starts at $995/month for a cozy studio and ranges up to $1,750 for an airy two bedroom loft. 15Walnut is a mixed use property that also houses the Tannin Wine Bar and Kitchen and a retail commercial suite on the first floor.
This historic property is located on the north edge of the Crossroads Arts District in Downtown Kansas City, Missouri. This location offers superb walkability to many of Downtown's most exciting attractions such as the Sprint Center, Power and Light District, innovative chef driven restaurants and the Crossroads art galleries on First Fridays. The Downtown Streetcar is only one block away and offers a convenient transportation amenity that can whisk residents north to the River Market for Saturday's farmers markets or south to Crown Center to enjoy local shopping and dining.
Why 15Walnut Lofts?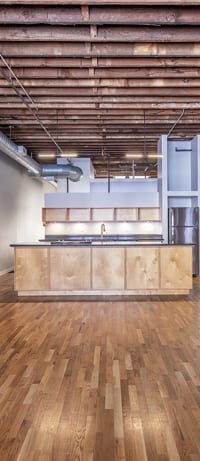 Location – 15Walnut is located on the north edge of the Crossroads Arts District adjacent to the Power and Light District providing excellent walkability to both of these exciting destinations.
Architectural Features – Each loft is appointed with colorful brick walls, historic heavy timber ceilings, and large windows providing excellent natural light into these living spaces.
Laundry – Each loft has a laundry center with a full size washer and dryer.
Pets – Pet friendly, restrictions apply.
Security – Courtesy patrol, key fob secured entry, digital telephone access for guests.
Rent Café – All KCLoftCentral communities are connected via Rent Café. This online resident portal allows tenants to pay rent, view their tenant ledger, schedule maintenance requests and view community messages.