Fountains Lofts
712 Broadway, KCMO 64105
click for directions

Beautifully ornate and detailed in gray/taupe load-bearing brick, the Fountain Lofts rests on the bustling corner of West 8th and Broadway Boulevard in Downtown Kansas City. This eight story historic structure displays more than just historic charm with heavy timber ceilings, large windows, gleaming granite counter-tops and stainless steel appliances that would satisfy even the most refined city dweller palate. However, several unique floor plans feature a variety of sizes, views and elevations that offer something for everyone. Residents can enjoy the luxury Club Room complete with a full kitchen and dining area, or the Theater Room to watch movies or games on a 96' big screen. The Fountain Lofts also includes a fitness studio with modern equipment and a hot tub!
Built in 1903 by celebrated Kansas City architects, Smith & Rea, the Fountain Lofts was home to the Faxon, Horton & Gallagher Drug Company; where they manufactured soaps, face creams and perfumes. Displaying architectural styles of Commercial/Second Renaissance Revival, the Fountain Lofts saw much of its surroundings built as horse-and-buggy carts on dirt roads gave way to automobiles on paved streets. While the Fountain Lofts manufactured toiletries, the rest of the Garment District manufactured textiles and clothing. The early twentieth century saw most of Broadway, particularly at West 8th Street, consisting of sewing spaces, clothiers and similar industry factories. The Eighth Street Fountain, erected in 1989, sits right in the front of the aptly named Fountain Lofts and faces westward within the context of the lovely and quaint Garment Place Park, where workers often take their lunch breaks to enjoy the memorial fountain in the "City of Fountains". This nickname for Kansas City refers to the well over 200 active fountains in the Greater Metropolitan area, surpassing that of Rome!
The area surrounding the Fountain Lofts features several upscale restaurants, live music venues, sports bars and coffee shops. The popular River Market area is available just to the northeast for a few blocks. There, you will find fresh produce, vibrant shops featuring odds and ends and numerous restaurants of different cultural fares as just some of the ingredients in this vibrant district. Highway access can be had on the Broadway Bridge where interstates and freeways meet and bus stations are located along Broadway Boulevard. Just a few blocks to the east on Main Street, the streetcar line takes residents to historic Union Station and back. The Fountain Lofts enjoys a B-Cycle station located right in front of the building and bikes can be rented to cruise around Downtown anytime you wish!
A pampered city life awaits you at this luxurious development. From its breathtaking balcony views to its modern amenities, this distinctive home will cater to you!
Why Fountains Lofts?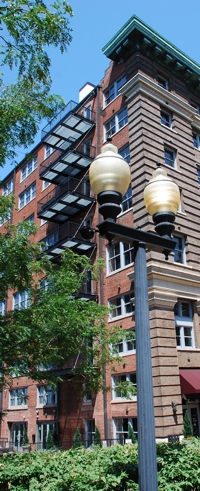 Parking – Covered and gated parking available for rent
Balconies – Fountains premiere units feature balconies that provide some of the best views in the Garment District.
Health Club – Residents have access to a fitness facility with a full range of both cardio and strength training machines. Relax after a satisfying workout in the Fountains custom hot tub while viewing one of the facilities many flat screen televisions.
Club Room – Residents can entertain family and friends in the Fountains luxury social lounge, which includes kitchen, dining and meeting facilities.
Theatre Room – Enjoy your favorite movie or the big game from the Fountains modern theatre room. Dim the lights and bring the popcorn, through the use of high tech acoustics, a 96" screen, and tiered seating you are in for a realistic theatre experience.
Storage – Each unit has access to a large, secure storage locker in the building.