Smith St. John Lofts
1518 Walnut, KCMO 64108
click for directions

The Smith St. John Building was originally constructed in 1926 by the Smith St. John Manufacturing Company, a hotel supply firm. This three story brick commercial building was designed by architect J.C. Sunderland, who also famously designed the Masonic Temple in Kansas City. The first story is faced with terra-cotta and visually separates the first and second stories. Symmetrically placed terra-cotta medallions with raised fleur-de-lis motif, adorn the upper section of the first story. The parapet wall is embellished with alternating terra-cotta heraldic motif consisting of a shield topped with a profile of an eagle and rectangular panels. Thankfully over the 20th century there have been minimal alterations to this building therefore retaining the majority of its historic integrity.
This building was recently renovated by KCLoftCentral and is now home to stylish loft apartments and two retail commercial suites. The apartments at Smith St. John seamlessly blend loft characteristics such as outsized windows, brick walls, concrete floors and open layouts with modern finishes such as stone counter tops, stainless appliances, washers and dryers and modern lighting. Apartment pricing at this location starts at $950 per month for a standard one bedroom ranging up to $1,395 per month for a breathtaking two story loft.
Smith St. John Lofts is located at 1518 Walnut Street in the Crossroads Arts District of Downtown Kansas City, Missouri. From this central location residents can walk to all of Downtown Kansas City's most popular attractions. The Sprint Center, Power and Light District and Downtown's gourmet grocery store are only two blocks to the North, the Kaufman Center for Performing Arts is a few blocks to the west and the Art Galleries of the Crossroads are just a short walk to the south.
Several parking options are available for lease surrounding the property and the Streetcar stop is located right behind the building on Main Street. These lofts are pet friendly and each is wired for Google Fiber.
Why Smith St. John Lofts?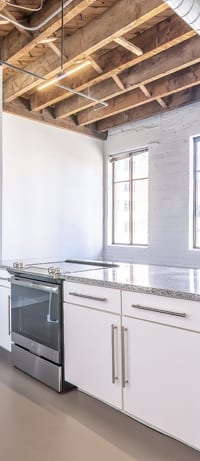 Location – Smith St. John Lofts is nestled on the north side of the Crossroads Arts District one block from the Downtown Street Car.
Architectural Features – Spacious layouts including several two story lofts with amazing views of Downtown Kansas City.
Interior Finishes – Stone counter tops, stainless steel appliances and designer lighting.
Laundry – Each loft has a washer and dryer.
Pets – Pet friendly, restrictions apply.
Security – Courtesy patrol, key fob secured entry, digital telephone access for guests.
Rent Café – All KCLoftCentral communities are connected via Rent Café. This online resident portal allows tenants to pay rent, view their tenant ledger, schedule maintenance requests and view community messages.